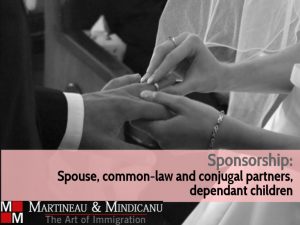 The Spousal sponsorship program was created in order to help families reunite, this being one of the main goals of Canadian Immigration Law. Even though it is supposed to be on top of the priorities of the government, based on the objectives of the law, the process is not as fast as expected by the many spouses willing to build a family in Canada with their Canadian partners.

In a previous entry we wrote about Myths and Truths regarding this program. This article is about the main subtleties regarding the process.
Who can be sponsored?
Persons of 18 years old and over, in a monogamous relationship with the sponsor:
A husband or wife (marriages via power of attorney are not accepted, the physical presence of both parties is mandatory at the time of the marriage);
A common-law partner (for this at least twelve months of continuous cohabitation as a couple, that is, under the same roof, with different proofs in support);
Or a conjugal partner (in a love relationship for at least 12 months, incapable of cohabiting for reasons beyond the control of the partners, for example for reasonable fear of persecution, because of a war) .
-and their dependent children (of 18 years old or under).
Who can be a sponsor?
Someone who:
Is at least 18 years old;
Holds Permanent resident or Citizen status;
In case of being a Permanent resident, resides in Canada;
Is willing to financially engage with Canada or Quebec as to economically support their partner;
Has not sponsored another partner in the past 3 years;
Has not been sponsored him/herself in the past 5 years;
Does not receive social aid from the provincial government (welfare);
Is not in jail;
Doesn't have a criminal background as either a sexual offender nor of violence against a family member;
Holds no debt towards Immigration Canada or, in the case of Quebec, has never failed to fulfill a financial engagement of a previous sponsorship;
Is not under an undischarged bankruptcy or has not failed to fulfill alimony/spousal maintenace obligations.
What does a sponsorship imply?
The government gives the sponsored person the Permanent residence status. The sponsor takes on the responsibility of ensuring their partner's integration for a period of 3 years counting from the day the sponsored person becomes a resident (10 years for accompanying children). This means that if the sponsored person asks the government for welfare, the sponsor will then be in debt with the government.
Sponsored persons' rights
Having the Permanent residence means having the same rights and responsibilities as a Citizen (except the right to vote or to hold a Canadian passport). However in order to maintain the status, one must reside on Canadian soil for at least 730 days within a period of 5 years (except for a few exceptions).
The process takes some 12 months, depending on the case and the processing times of the government at the time of analyzing the file.