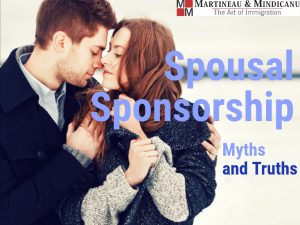 The number of Permanent residents and Citizens sponsoring their partners keeps increasing every year. There are several ideas and rumors regarding this process that we will explain in this article.

Myth or truth?
To be eligible as a sponsor, I must be currently employed.
Myth – To sponsor a partner it is not necessary to have a minimum income. The exception to the rule is when the partner has dependent children that have dependent children of their own.
I cannot sponsor my partner if I have student loan.
Myth – The only kind of debt that may prevent you from applying for sponsorship would be to the government for reasons related to Immigration law. Also, Permanent residents or Citizens who have filed for bankruptcy, and those not complying with family support obligations such as child alimony, are not able to sponsor.
After getting married, sponsorship is automatic.
Myth – It is mandatory to submit an application and to demonstrate that the relationship is authentic.
Canadian Citizens cannot sponsor their partner unless they currently reside in Canada.
Myth – Only Permanent residents need to be residing in Canada in order to sponsor.
Sponsorship is available even for unmarried couples.
Truth – It is also possible to sponsor a common-law partner as long as the couple has resided under the same roof for at least 12 continuous months. In some exceptional cases, it is possible to sponsor a partner with whom cohabitation is impossible due to reasons outside their control (for example persecution) – conjugal partner sponsorship.
The authenticity of the relationship will be verified even after approving the sponsored person as a Permanent resident.
Truth – Two years after the sponsored person becomes a Permanent resident it will be necessary to prove that the relationship is genuine and ongoing (for relationships of less than 2 years old upon file submission, with no children in common).
Dependent children can also be sponsored.
Truth – The maximum age for dependent children is 21.
The sponsored resident cannot have access to loans and bursaries.
Myth – The sponsored person, as a Permanent resident, has the same rights and responsibilities as any other permanent resident.
The sponsored resident cannot have access to social aid.
Myth – It is possible to ask for social aid, but if this is done within the first 3 years, the sponsor must return the money to the government.
During the sponsorship process, the sponsored person cannot travel to Canada if residing abroad.
Myth – It is possible to apply for a Temporary resident visa to come to Canada while the application is being processed.
During the sponsorship process, the sponsored person temporarily residing in Canada cannot travel outside the country.
Myth – It is possible to travel outside Canada if your application is in process, but a re-entry visa is not guaranteed. Therefore, we strongly suggest that prior to traveling, you apply for a visa (if you need one) in order to secure being admitted back in the country.
The application cannot be done online.
Truth – As of now, only paper applications are being accepted.
To sponsor someone to the province of Quebec there's an additional stage.
Truth – Applying for a Quebec Selection Certificate (or CSQ for its initials in French) will be required for this process. This stage usually takes about 4 weeks and does not affect the Federal stage processing times, for taking place simultaneously.
When the sponsorship is being done from within Canada, the sponsored person can request a Work Permit while the application is in process.
Truth – A work permit can be obtained within four months after submitting the sponsorship application from inside Canada, upon certain conditions.
If the sponsored person is out of status, it is not possible to submit an application from within Canada.
Myth – It is always preferable to keep a legal status in Canada, but being out of status is not a disqualifying factor to submit a sponsorship application.
It is not mandatory to declare in the forms non-accompanying children.
Myth – Failing to declare dependent children could result in not being able to sponsor them in the future. Moreover, this could affect your application negatively and even lead to inadmissibility to Canada, as omitting relevant information is considered misrepresentation.
The sponsored person cannot sponsor another partner for five years following the date he/she became a Permanent resident.
Truth – If the sponsored person ends the relationship with the sponsor and wishes to sponsor another partner later on, they must wait 5 years counting from the day they became a Permanent resident in order to apply.
If I did not declare my partner upon immigrating to Canada, I can sponsor my partner after I obtain my Permanent residence.
Myth – With few exceptions, if at the time of immigrating the sponsor was already in a marital relationship with the person they wish to sponsor but did not declare it, their application will be refused under Immigration Regulation 117(9)d), which applies to people residing outside Canada; and 125(1)d), which applies to people being sponsored from within Canada. In both cases, if at the moment the sponsor became a Permanent resident the partner was not declared, then the partner cannot be sponsored.

The sponsor cannot apply to bring someone if he/she has already sponsored a partner in the past 3 years.
Truth – Also, the undertaking toward the first sponsored partner remains enforced for a three-year period, whether or not the relationship continues. 

I can sponsor my partner even if I am a temporary resident in Canada.
Myth – Only Permanent residents and Citizens can sponsor their partners.