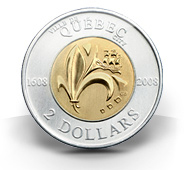 As part of the latest immigration changes in the Quebec system, the official fees will modify as well.

The new fee for Quebec Selection Certificates under the Skilled Worker category will be of 750 CAD as of April 1, 2012.
We remind here the old fees:
Main applicant – 406 CAD
Spouse – 156 CAD
Each dependent child – 156 CAD
It seems that there is no change of fee for the accompanying members. According to the immigration officials the new fee represents the real costs implied for file processing and will also lead to better integration services.