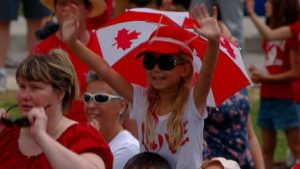 This July 1 we celebrate the national Canada Day. This 2013, the Reputation Institute published the results of a survey to determine the world reputation of every country. Guess who ranked first?

"Canada" was the main answer given by a majority of the 27,000 people surveyed by the Reputation Institute, for a third year in a row. The three key criteria used to determine every country's reputation are:
An effective government
An advanced economy
An appealing environment
Canada owes its reputation to each citizen and individual residing in its territory, no matter his or her origins. To each and everyone of you who contributes to making Canada and even better place to live, thank you and congratulations!
Please find the list of the top 50 countries.
Ranking 2013

Ranking 2012

Canada

1

76.6

1

77.8

Sweden

2

76.5

3

75.6

Switzerland

3

76.3

4

74.8

Australia

4

76.1

2

75.2

Norway

5

74.1

5

73,9

Denmark

6

73.3

8

71.7

New Zealand

7

72.5

6

72,9

Finland

8

71.8

7

72.0

Netherlands

9

70.6

10

69.5

Austria

10

70.6

9

70.5

Germany

11

68.3

11

66,3

Ireland

12

67.6

15

65.7

Belgium

13

67.1

13

65,7

Japan

14

66.2

12

66.3

United Kingdom

15

65.1

14

65.7

Italy

16

63.9

18

59.0

France

17

63.4

17

61.2

Spain

18

62.0

16

63.4

Portugal

19

61.6

19

57.1

Singapore

20

58.3

20

56.7

Brazil

21

57.8

21

55.4

USA

22

57.4

23

54.0

Peru

23

54.9

24

53.4

Thailand

24

54.3

22

53.9

Poland

25

53.2

26

51.93

Taiwan

26

52.7

28

51.1

Puerto Rico

27

51.5

30

49.2

Chile

28

51.0

32

47.6

India

29

50.7

29

51.9

Argentina

30

50.2

30

49,17

UAE

31

49.3

29

50.6

Greece

32

47.4

38

43.3

Turkey

33

47.2

37

44.4

South Korea

34

47.2

31

47.8

Mexico

35

47.0

34

45.5

South Africa

36

46.8

33

47.5

Israel

37

46.1

40

43.0

Haiti

38

45.8

35

44.8

Venezuela

39

45.5

36

44.8

Egypt

40

43.9

39

43.2

Bolivia

41

43.7

41

42.0

Ukraine

42

43.3

42

41,8

Saudi Arabia

43

40.1

46

36.7

China

44

37.8

43

39.7

Colombia

45

37.8

44

37.5

Russia

46

36.7

45

36.8

Nigeria

47

34.0

47

31.5

Pakistan

48

28.8

48

26.6

Iran

49

22.6

49

21.3

Iraq

50

21.2

50

20.3
Imagen de ca.news.yahoo.com/