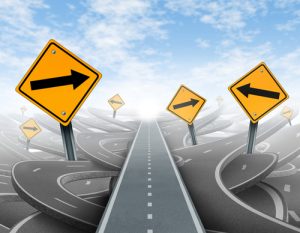 The Federal Skilled Workers program created a lot of expectations yet it is very limited: only 24 eligible occupations, 300 applications per profession, maximum of 5,000 applications in total… The number of received applications has yet to be updated on the CIC website, but we may safely bet that a good number of occupations will reach their quota before too long. In that context, many aspiring immigrants to Canada have felt disappointment and came to believe (wrongly) that Canada is closing its door to new immigrants. Canada still welcomes some 250,000 new residents every year; what is changing are the paths to get in. There are currently 67 immigration programs so remember that there might one for you, as we show in this video.

We could summarize the ways to immigrate to Canada into five major paths.
Under a Skilled Workers program (currently we only have the Federal and the Quebec Skilled Workers Programs). They have the advantage of immigrating without having stayed temporarily in Canada as a worker or a student. They are based on the potential that immigration candidates have to adapt and integrate into society and into the labour market. Therefore selection factors take into account the work experience, area of training, level of education, age and level of English and French of the applicants.
After a temporary stay as a worker and/or student, for example after graduating from a master's degree in Saskatchewan, Manitoba, Ontario or Quebec, or after one year of valid work experience in Canada. In some trades, a work experience of 6 months or more can open doors to permanent residency, as well as a validated, permanent job offer.
As a business person. Entrepreneurs or self-employed persons, with a solid business plan, may have access to a permanent residence program, for example under the Start-Up Visa Program. Self-employed persons in the fields of culture, or sports, as well as farm owners and administrators, may have doors open to residency. Business managers that may demonstrate that their business may bring significant economic, cultural or social benefits to Canada may also obtain permanent residency.
People who have a spouse or common-law partner in Canada, or a close relative, may be sponsored by their loved ones. Other relatives such as brothers, cousins and uncles may allow to immigrate under certain provincial nominee programs.
Immigration for Humanitarian considerations. I would say that more than ways to immigrate, Humanitarian programs exist to protect and help people in need to find shelter in Canada, or when the best interest of children is at stake.
As we say in our video, we don't mean to explain in details each and every immigration program; our goal here is to open your mind to the fact that if one door closes, there might be another one that opens.
Picture from chirobeans.wordpress.com/